26th Shipping up to Bolde
Today at 9 and after a last walk through the rice fields of Dhulikel we set out to our acctual project location: Bolde. We went with Dabindra, the lab technician of the health post, and picked up vegetables, rice and beer along the way. After enjoying the direct view onto the giants of the himalayas we left the smooth tar road for a path less travelled. Along the way we saw eagles and vultures circling the sky, a wedding, bhudist stupas, trees full of prayer flags and drops that could worry your parents.
Bolde itself lays quite a bit outside in dry, forested hills. The few houses comprising the village are surrounded by terraces for rice, wheat, potatoes and canola. All the personal of the Bolde Phediche Health Center welcomed us warmly and showed us our rooms in the staff quarters which can be seen in the pictures above.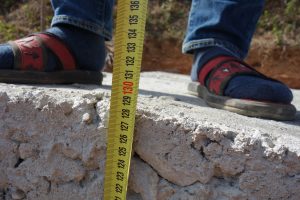 We barely had time to settle in when our first lunch, and one of the national dishes of Nepal, waited for us – Dal Bhat. It consists of white rice, lentil soup, a bit of curry and a spicy sauce. Fed and full of energy we set out to prove the world that some clichés about german engineers are true. We set out in socks and sandals armed with measuring tape and camera to assess the technical situation of the laid foundation (see above). We adjusted our plan to the local situation and drew up a plan to double check with our group back home. After inspecting the fireproof bricks and dividing them in two grades we met the local bricklayer and can thus start tomorrow morning with the construction.
Best regards from Nepal
Arne und Henning