Ecuador in times of Corona
Ecuador has been especially hard hit by the corona pandemic. Despite its small size, it has the second highest death toll in Latin America. Particularly serious is the fact that 40% of those infected are hospital staff. Furthermore, there are only about 1000 intensive care beds in Ecuador. For every 100,000 inhabitants there are just 0.7, which is 5 times less than in Germany. This and a severe lack of personnel are the result of years of cost-cutting measures in the health system. The economy also suffers from this. An estimated 400,000 families in Ecuador earn their money from day to day. Although the government is trying to cushion the effects of the virus as much as possible, Ecuador's budget, which depends heavily on oil exports, is also being put under pressure by low prices. Meanwhile, Ecuador plans to restart production and sales in order to limit the enormously high new debts. The pandemic has cost Ecuador's economy around $4.7 billion in sales, according to data from the Ministry of Economics. The Ecuadorian state cannot finance economic aid such as that provided in Germany due to a lack of reserves.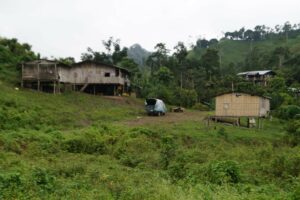 In our partner village El Cascajal the situation is equally tense. The mood of the country makes many Ecuadorians worry. Fortunately, the people in the countryside have the possibility to provide for themselves mainly. However, clean fresh water is and remains an important key role and a cornerstone of hygiene.